Click a box to find our teammates
Jon-Claude

Simms
Developer
A computer developer that uses coding kung fu in order to build the very best applications. He currently leads an international team of developers building a cloud application security platform. Jon-Claude's love for video games has lead him to work on several blockbuster games (Skyrim, Dishonored and Rage), but his passion has lead him to work on creating the next video game masterpiece at Aura Studios.
Stephen

Finnegan
Designer
Stephen is a DC based designer and artist. He has made it a mission to learn all disciplines within visual arts & design in order to be a true jack of all trades. Recently, Stephen has started combining his two loves (video games & visual design) into his work at Aura Studios. While he continues to explore and master different visual specializations, Stephen always comes back to cinematic and game development, which serve as a playground for his imagination and fuel his drive to create.
Gerald

Bowen
Musician
Gerald is a NYC based producer, writer, and audio engineer with a passion for the creative process. His expertise in Pro Tools and Ableton Live provide a base for delivering high quality sonic material. Combining his love for gaming and music, Gerald helps to complete the creative vision through the art of sound.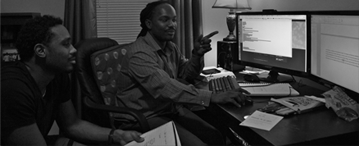 About the Team
The Aura Studios team is a young, vibrant, creative ball of synergy. As you work with the team, you will find the most competent and reliable group of creative designers and engineers. Their production of dazzling visuals is a constant. Not only is the team a paragon of reliability, they know how to have fun, relax and take it easy. You might find that they are an affable bunch and would probably enjoy working with this talented team.
Please feel free to contact us to see what our team of developers and designers can do for you.