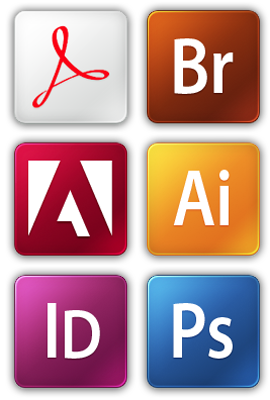 Graphic Design
We use the best tools to get the job done.
Adobe Acrobat
Adobe Acrobat is a set of application software developed by Adobe Systems to view, create, manipulate, print and manage files in Portable Document Format (PDF files).
Adobe Bridge
Adobe Bridge is an organizational software application created and released by Adobe Systems as a part of the Adobe Creative Suite, beginning with CS2.
Adobe Flash
Adobe Flash (also Adobe Flash Platform, formerly Macromedia Flash) is a multimedia and software platform used for authoring of vector graphics, animation, games and Rich Internet Applications (RIAs) which can be viewed, played and executed in Adobe Flash Player
Adobe Illustrator
Adobe Illustrator is the leading vector graphics editor developed and marketed by Adobe Systems.
Adobe inDesign
Adobe InDesign is desktop publishing software application produced by Adobe Systems.
Adobe Photoshop
Adobe Photoshop is a graphics editing program developed and published by Adobe Systems.