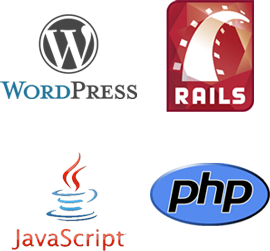 Web Development
We use the best tools to get the job done.
Wordpress
WordPress is a free and open source blogging tool and a content management system (CMS) based on PHP and MySQL.
Rails
Ruby on Rails, often shortened to Rails, is an open source full-stack web application framework for the Ruby programming language.
Javascript
JavaScript (JS) is an interpreted computer programming language.
PHP
PHP is an open source server-side scripting language designed for Web development to produce dynamic Web pages.